Azzopardi, Wilson help keep Apollos perfect
---
3/16/2013-
By Karen Boehler
Pecos League writer

HOUSTON — Andrew Azzopardi and Mike Wilson hit and Brett Kinle and Richard Suniga pitched the Houston Apollos to their sixth straight Pecos Spring League win Friday, taking advantage of two Vaquero errors to top Las Cruces 5-4 in what Apollo manager Andrew Dunn said was probably the best game of the season.

"Andrew Azzopardi. Brett Kinle, Mike Wilson and Richard Zuniga. This is our best win of the six games," he said. "I think this was the best game in the league and it was our best win. We can't defend home runs and we can't defend walks. They scored their runs off home runs. We battled back and won. This was the toughest win of the league, and I think by far, them and us would tell you, this was the best game of the league."

Vaqueros manager Casey Dill might agree to a degree, because for yet another game, errors by his squad gave the opposition the victory.

"Same story, different baseball game," he said. "We're the only team that can beat us is ourselves, and we continue to come out on a nightly basis and we beat ourselves. While we didn't make multiple errors tonight, the errors that we did make were very costly. They cost us the baseball game, and it was very frustrating."

While Edison Alvarez kept the Apollos (6-0) off the scoreboard early, Kinle gave up a single to Adam Ziegler to open the second, then, two strikeouts later, Austin Carden sent a shot out of the park, making it 2-0 Vaqueros. Houston closed it to 2-1 in the bottom of the stanza when Azzopardi walked, went to second on a sacrifice bunt by Cameron Powers then came home on a wild pitch and balk.

But Las Cruces (3-3) made it 4-1 in the third, scoring on a one-out single by Travis Fuquay, and, after a ground out, a home run to right by Effrain Garcia. The homer originally caused a bit of confusion, as it hit the net in right, stuck briefly then bounced down where it was caught by the Apollo right fielder.

But eventually the umpire ruled it was a home run, giving the Vaqueros the three run lead, which stuck through the top of the fifth inning. But in the bottom of the stanza, with one out, Jordan Segura hit to third base, but the throw went wild, putting the pinch hitter on first. Wilson followed with an RBI double, then, after a ground out, Matt Leahy was hit and Azzorardi followed with a two RBI double, tying the game at 4-4.

And that was it for both starters.

Apollo reliever Suniga came up in the sixth and after walking the leadoff batter, struck out the next three batters, much to the displease of the Vaquero fas in the stands.

Las Cruces reliever Bryan Smith set Houston down 1-2-3 in the bottom of the stanza, then Suniga followed with another walk, strike, strike, strike inning to bring the Apollos up in the bottom of the seventh.

Smith then walked Wilson and Hunt, both advanced on a second Vaquero error and Azzopardi hit a towering shot to left center that probably would have been a triple had not one run been enough for the victory.

Neither starter was involved in the decision, with Suniga getting the win and Smith the loss. Dill was very unhappy that his fielders haven't been backing up the team's strong pitching.

"We have three pitchers with over 20 innings pitched; only one earned run and we have a losing record," he said. "And I told these guys right now, maybe one game out of this league so far the other team beat us. Maybe one game the other team beat us. Every other game, we beat ourselves."

Dunn said taking advantage of other team's mistakes is what the Apollos do.

"Jordan Segura, every time, he comes through with it," he said. "A little flare ball. Tie game. Get RIchard Zuniga in. We go to Richard. Our bullpen beats theirs, we win. Their closer was great. He pitched great."

The Apollos take on Garden of Gears Sunday at 7 p.m., while Las Cruces will fave the Sea Lions at 10 a.m. Dill said his players need to realize their future is in their hands.

"Absolutely. That's why if this was the regular season I'd be (angry) and I'd be making phone calls getting roster moves," he said. "But this is for these guys. This isn't for me. This isn't for J.D. This isn't for Bill or Andrew, this is for these players to get opportunities to play professional baseball. And they come out here and they beat themselves; no manager wants guys who beat themselves on a nightly basis. So it's one thing if the other team beats you. It's a completely different story if you beat yourself. And that's what we did."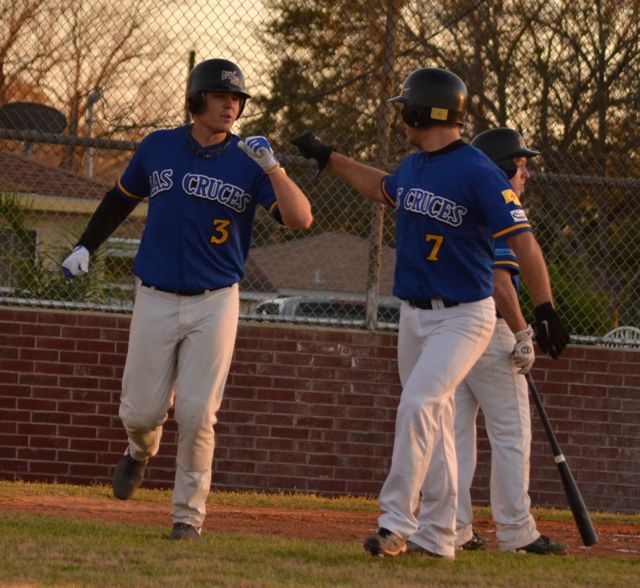 ---
Austin Carden is congratulated by Adam Ziegler after homering in the 2nd.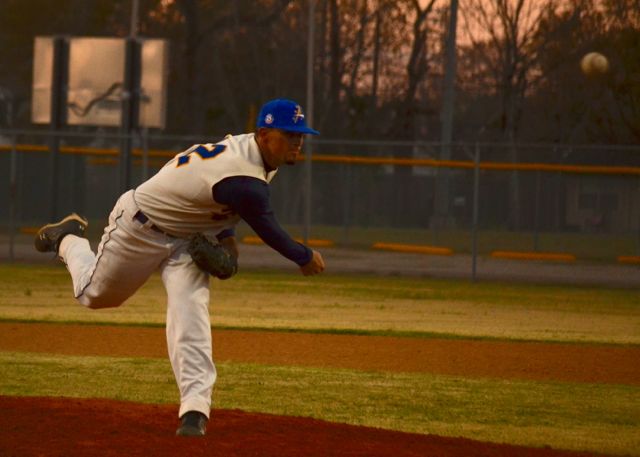 ---
Brett Kinle pitched well, but didn't get a decision in his team's win.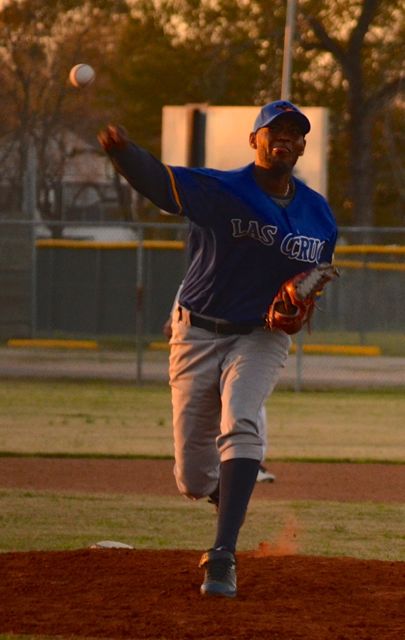 ---
Edison Alvarez was again betrayed by poor fielding, getting no decision.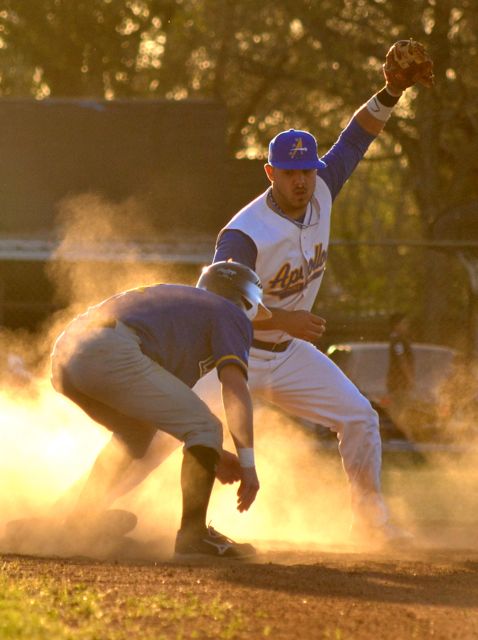 ---
Matt Hunt goes for the out at second.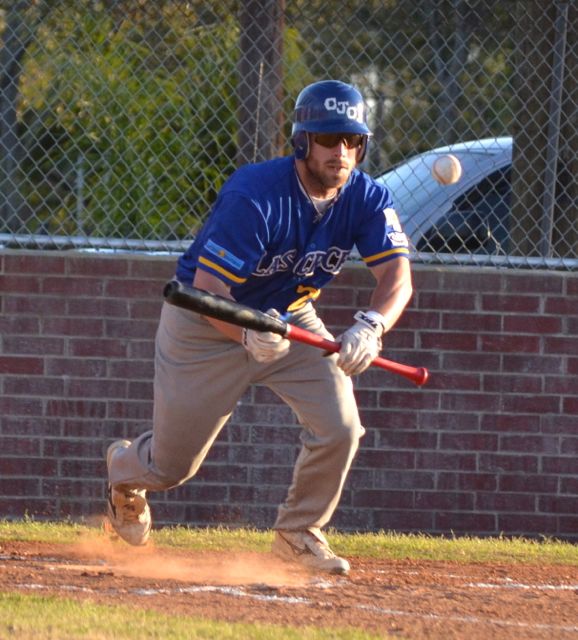 ---
Travis Fuquay bunts for a hit.
---
For more information visit Pecos League of Professional Baseball Clubs LLC.
http://www.PecosLeague.com
575-680-2212