Vaqueros put everything together in win over Gears
---
3/14/2013-
By Karen Boehler
Pecos League writer

HOUSTON — After some rough games early in the Pecos Spring League, the Las Cruces Vaqueros finally played what coach Casey Dill said was the team's best game all season: a 10-4 victory over Garden of Gears.

"They sure proved me wrong," Dill laughed. "I just got done saying we're not going to be the team that scores a lot of runs, and we came out and scored a lot of runs, so that was good to see. We had another solid performance from our starting pitcher. Our defense played very well for the most part and we put up some extra runs. That was probably the first complete ball game where we did everything well so far in this spring league."

For Mesa coach Bill Moore, the problem was simple.

"We didn't pitch well," he said. "Too many ball fours. You can't catch a walk."

After the Gears went 1-2-3 to open the game against Jeff Goulet, Mesa starter Brandon Jordan got the first two Vaqueros before Carl Johnson sent a smash over left center, putting Las Cruces up 1-0. But Mesa took the lead in the second.

Zach Kreeger was hit, D.J. Johnson and Chris Carrera each singled — Carrera scoring Kreeger — then after a balk, back-to-back ground outs by Jeffrey Traver and Dwayne Starks scored Johnson and Carrera. But the Vaqueros came back strong in the bottom of the second, scoring four runs, three coming off a home run by Edison Alvarez after a leadoff double by Adam Ziegler and a walk to Blake Babnick, and the fourth on a walk to Goulet and a single by Johnson.

Goulet put two Gears on base in the third but got out of the inning unscathed, then Las Cruces added four more runs in the sixth off reliever Yoshimune Tsujii, who walked five of the seven batters he faced along with a single. After hitting the first batter he faced — forcing in a run — Dwayne Starks got out of the inning.

Starks gave up a final run in the fourth on a single by Babnick, a hit batter and an Alvarez double, then shut Las Cruces down the rest of the way. Vaquero reliever Ziegler walked the first two batters he faced in the fifth, but then struck out the side, and only allowed one hit in the sixth. (The game ended in the sixth under a city ordinance that says ballpark lights must be off by 9:30 p.m.)

The Vaqueros tallied seven runs, led by Alvarez who was 3-for-3 with 5 RBI and two runs scored. Johnson was 2-for-4 with 2 RBI and one run scored and Babnick was 1-for-1 with three runs scored. The Gears had five hits off five different players.

Starks had the best Mesa pitching performance, Moore said, and despite the lack of offense, wasn't displeased with that.

"The other two really struggled with the strike zone and got us kind of in a little hole that it was a long way to dig out of. We weren't able to do it," he said. "The only thing I'm disappointed in is we didn't throw enough strikes. There's no defense for ball four."

Garden of Gears will take on the winless Sea Lions Friday, while Las CRuces will try to hand the Apollos their first loss.

"This is the game I'm happiest with," Dill said. "This is the game where I felt we hit the ball well. We played defense well and we threw strikes and we got guys out. And I think we've got a very good team vibe going on now. We've got a little two-game win streak, and we're very excited to roll that into Friday night against the undefeated Houston Apollos."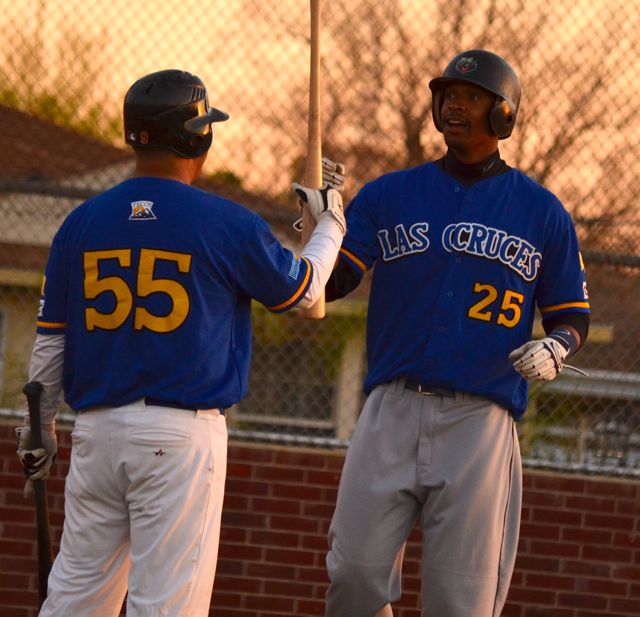 ---
Edison Alvarez is congratulated by Effrain Garcia after a home run.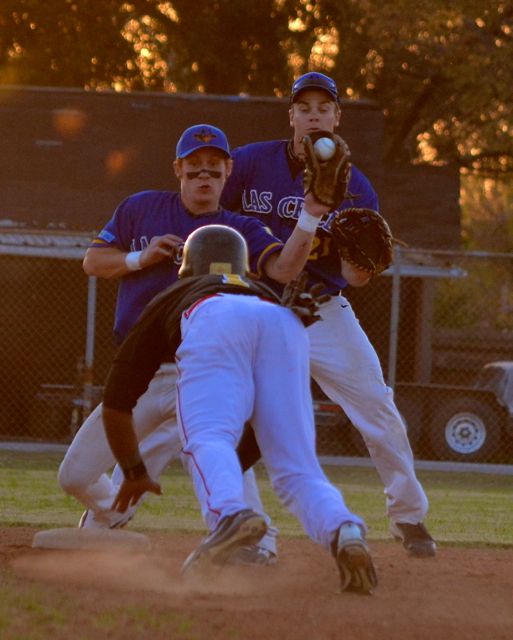 ---
Dylan Stone (left) and Bryce Babnick combine to get Kyle Zimmerman out.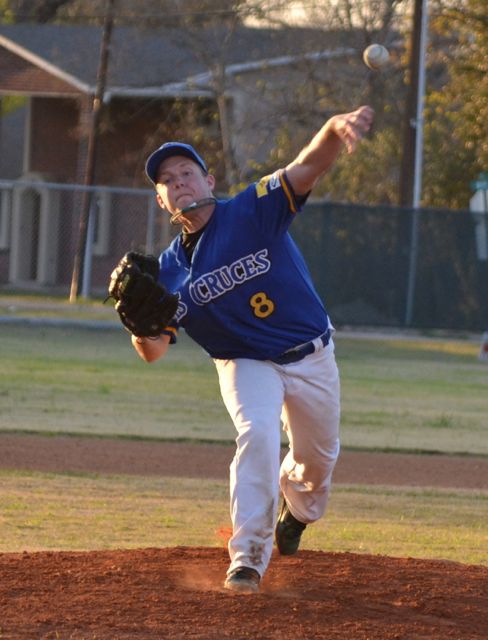 ---
Jeff Goulet got the win for Las Cruces.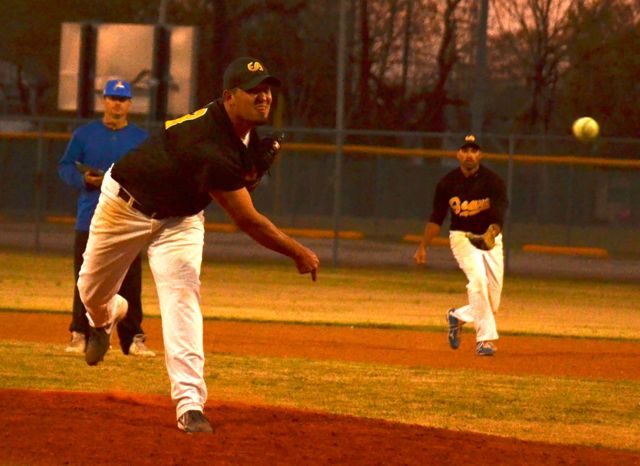 ---
Brandon Jordan started for Garden of Gears.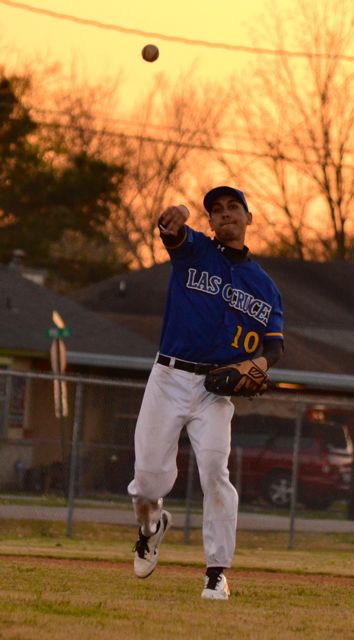 ---
Jacob Alastra makes the throw from third.
---
For more information visit Pecos League of Professional Baseball Clubs LLC.
http://www.PecosLeague.com
575-680-2212