Bats come alive in 9-2 Gears victory
---
3/10/2013-
By Karen Boehler
Pecos League writer

HOUSTON — The way Saturday's nightcap between the Galveston Sea Lions (0-3) and Mesa Garden of Gears (2-1) began, it looked to be a game where the hitters would finally dominate. And in the end, that was true, but only for the Gears, who won 9-2 after an explosive start by both sides.

Both pitchers had to warm up several times because of the late arrival of the umpires, and for Lion Bryce Miller, the start was his first time on the mound in the league.

After an opening pop out, he walked the next two batters, then gave up a triple to Zach Kreeger, which scored Kyle Zimmerman while Brennan May was thrown out trying to come home as well. Then a walk to D.J. Johnson was followed by a throwing error that scored Kreeger, and an RBI double by Kyeong Kim scored Johnson, making it 3-0.

But Galveston looked like they would match those fireworks and add some, picking up where they left off.

Frank Florio smashed a 2-2 count off Gears starter Brandon Jordan hard over the right-field fence, tallying his third home run in two games. Phillip Roscoe followed that blast with a one-ball shot over the left-field fence, closing the gap to 3-2.

But after walking the next batter and allowing the cleanup hitter to reach on an error, Jordan struck out the side and never looked back

"I'm making an excuse for him which I don't like to do but the umpire was late and slow in getting here and he got loose and he sat down," said Mesa coach Bill Moore. "He got loose and he sat down. And he got loose and he sat down and it was time to play and he wasn't really ready and he threw two (chest) high fast balls that got hit. Then he settled down, got loose and kept the ball down where he's supposed to."

Jordan only allowed two more hits — singles by Miller and Carl Roscoe in the second — but both runners were thrown out — Miller trying to stretch the single and Carl Roscoe trying to steal — and after that, he set the Lions down 1-2-3 in every inning.

"We didn't play with the enthusiasm today that we've been playing with," said Galveston coach J.P. Droddy. "Hopefully we'll come out Monday with a little more hop in our step and fire in our eye."

The Gears, meanwhile, continued pouring it on, scoring three in the second on a double by No. 9 hitter Chris Carrera; a one-out single by Zimmerman that scored Carrera and a long home run by Kreeger.

Kim singled and scored in the third on a passed ball, an out and a single by Carrera to make it 7-2; , May made it 8-2 on a home run in the fourth; and Kim — who was 3-for-4 with two runs and an RBI, got the final Mesa run on a double and two-base error off reliever SEan Elitzky.

But Elitzky shut the Gears down in the sixth, and Josh Cruse, who, Droddy said, is getting better each time out, closed out the sixth. Jordan turned the ball over to Yoshimune Tsujii in the seventh, who closed things out on 12 pitches.

"It was a big pitching outing for us because we were skinny in the dugout," Moore said. "We've got three pitchers. We really needed that. That pick us up."

And only three games into the young league, Droddy wasn't too disappointed.

"We'll get there," he said. "It's spring and we're developing. Josh, pitching there, he's better each time he comes out. It's early. This is a developmental league and we want to win, but ultimately we want to get these players ready to be drafted.

"I'm seeing some very good things. Seeing some good things. Today we were just flat. We didn't have any enthusiasm. But we'll get there."

Moore is also happy.

"You win 60 percent in the Pecos League and you go to the playoffs," said Moore, whose Fuego finished at the bottom last season. "I'm very happy with where we are. The only thing that would have been better would have been beating Mr. Dunn, and we'll do it. I have confidence we'll do it. We'll be fine."

The teams will be back in action Monday. Galveston will face Las Cruces at 1 p.m. at Coastal Ballpark, while the Gears will try to get that win over the Apollos at 7 p.m. at Cristy Field.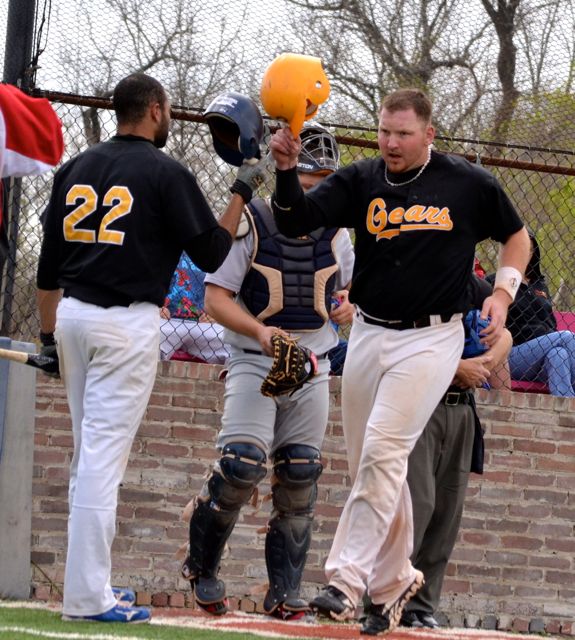 ---
Zach Kreegar is congratulated by hus teammates after his home run.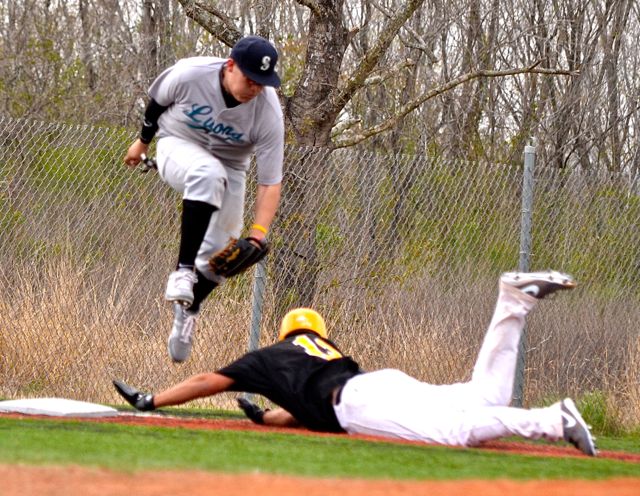 ---
Phillip Roscoe hurdles Gear Chris Carrera as he slides into third.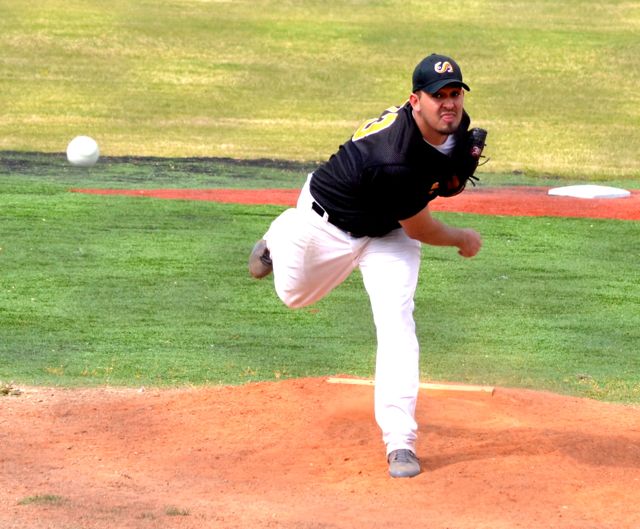 ---
Brandon Jordan pitched six strong innings for the Garden of Gears.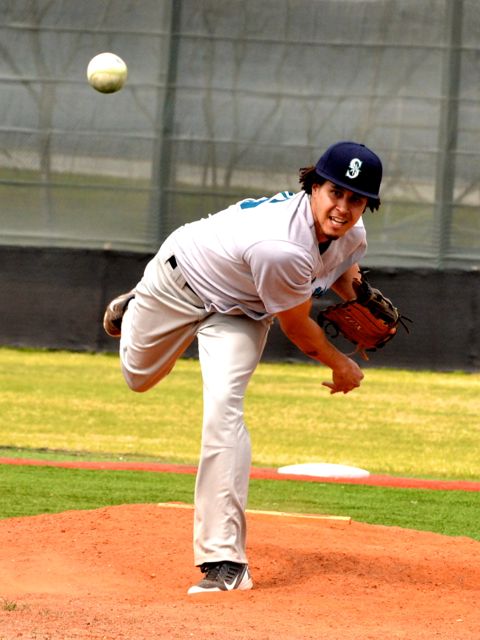 ---
Bryce Miller had a tough time in his first outing in the Spring League.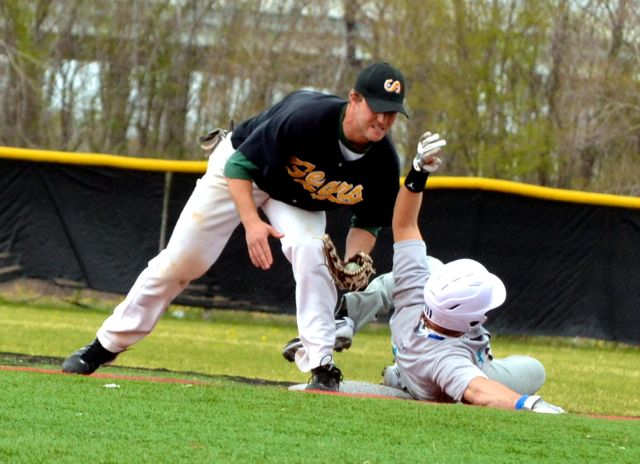 ---
Kyle Zimmerman tags out the sliding Carl Roscoe at second.
---
For more information visit Pecos League of Professional Baseball Clubs LLC. http://www.PecosLeague.com 575-680-2212