Two Florio homers not quite enough to give Lions win over Apollos
---
3/8/2013-
By Karen Boehler
Pecos League writer

HOUSTON — The first two home runs in the Pecos Spring League were hit Thursday night by one player on the losing end of a 6-5 game, on a team that only had 10 players total — they had one pitcher on the bench. So while the close loss put the Houston Apollos at 2-0 and the Galveston Sea Lions at 0-2, Lions coach J.D. Droddy was very pleased with his team's effort.

"I don't feel bad at all," he said. "Our guys gave a great effort, and we played well. Yesterday we didn't play well. Today we played very, very well on both sides of the ball. I'm thrilled. It was great. It was fun."

Although Frank Florio, who hit a solo home run in the fourth and two-run homer in the sixth didn't start the game out well, the Lions did. With two outs, Edgar Quintana and Robert Dimperio both walked, then Derek Dominguez singled in Quintana, putting Galveston up 1-0.

Lion starter Scott Elitzky walked the first Apollo, but then quickly got out of the inning. He led off the second with a single and helped his own cause by scoring the second run on a single, wild pitch and a two-base wild pitch that made it 2-0.

The Apollos couldn't score in the bottom of the second despite loading the bases on three walks and a sacrifice, but Houston starter Richard Suniqua finally had his first scoreless inning, and in the bottom of the third, the Apollos took the lead.

Matt Leahy led off with a walk. Aussie Andrew Azzopardi walked but Cameron Powers struck out and it wasn't looking good.

But a dropped third strike put Tyler Iguess on board, loading the bases, and Ruben Rijkhof singled, scoring Leahy, and an error in center brought in Azzopardi and Iguess.

Florio tied the game in the fourth with a no-doubt-about-it shot over the right center fence, but Houston had another three-run inning in the bottom of the stanza.

Pinch hitter Larry Rodriguez reached on a broken bat single, Matt Hunt was hit and after two long fly ball outs, Azzopardi and Powers both doubled, making it 6-3. THe Apollos then had to hold their breath while Rodriguez had runners on first and third in the fifth, but battled his way out of the jam, then, after Lion Josh Cruse walked but was thrown out on a fielder's choice by Carl Roscoe, Florio hit his second dinger.

"It feels good," the center fielder said. "Second game, I was just trying to let the ball travel. See it deep and it just worked out. I got a couple of barrels on it and it went over the fence."

And although those were the final runs of the game, the Sea Lions didn't go quietly, getting runners on first and second with one out in the top of the seventh before closer Cameron shut the door.

Apollo manager Andrew Dunn was happy with that final out, and pleased with his pitchers. Not so much the hitting.

"Richard Zeniga did good," he said. "Had a good start. Larry Rodriguez bridged that inning and then Cameron came through, only allowed the two-run home run. Gets the save and we hold on 6-5 and we live again. Didn't hit that well but we did enough to win. Just enough to win. So we're ready for the Vaqueros on Saturday."

Losing close with only 10 players pleased both Droddy and Florio.

"Our guys did a good job. We fought, and I was trying to help keep us in it. I thought we played really well tonight. All of our guys played really good," Florio said. "The Apollos are probably one of, if not the best team here, and maybe we didn't get too much of a chance but now we know our team can hang with anybody in the league. And we're going to play and we're going to fight and we're going to compete with everybody now."

Both teams have an off day Friday, then get back in action Saturday at Coastal Baseball Park.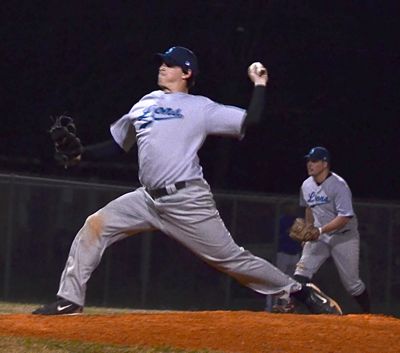 ---
Scott Elitzky pitched well and scored for the Sea Lions.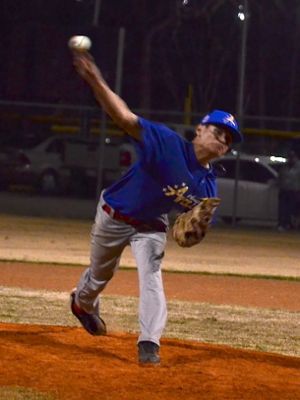 ---
Scott Elitzky pitched well and scored for the Sea Lions.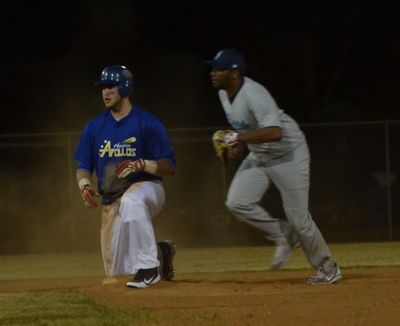 ---
Scott Elitzky pitched well and scored for the Sea Lions.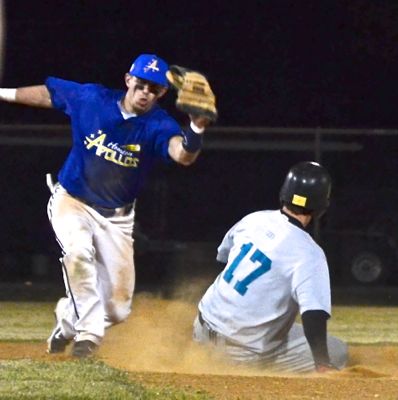 ---
Scott Elitzky pitched well and scored for the Sea Lions.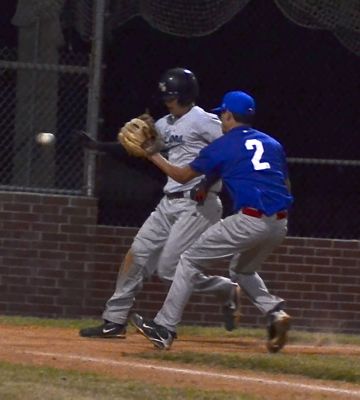 ---
Scott Elitzky pitched well and scored for the Sea Lions.

---
For more information visit Pecos League of Professional Baseball Clubs LLC.
http://www.PecosLeague.com
575-680-2212