Apollo pitching, hitting top Garden of Gears
---
3/7/2013-
By Karen Boehler
Pecos League writer

HOUSTON — There were a lot more hits in Wednesday's nightcap at Cristy Park, but also some strong pitching, and both efforts came from Pecos League commissioner Andrew Dunn's team, the Houston Apollos.

Dunn started Brett Kinle on the mound, and Kinle showed he had what it takes, going the full seven innings, allowing only six hits and four runs, while striking out 10.

The Houston bats kicked in early, going up 1-0 in the first off starter Nikolai Alkimov when Matt Hunt was hit, stole second, advanced on a throw and came home on a fly out.

Garden of Gears took their only lead in the second when D.J. Johnson and Kyle Zimmerman both walked, then scored on a one-out triple by Kyeong Kim. The Apollos came back in the bottom of the stanza on a single by Cameron Powers and a one-out single by Kinle, which scored Powers. But then a wild pitch sent the pitcher all the way from first to home, where he slid in safe, putting the Houston squad up 3-2.

After a scoreless third, the Phoenix squad tied the game on a single by Kim and a two-base Apollo error that scored Jeffrey Carver. But once again, Houston matched that scoring in the bottom of the stanza and this time added two more runs, when James Byrd, Matt Hunt and Zach Dandrea each scored.

Gears got its final run in the fifth on a single by Zach Kreeger, who advanced on a walk, stole third and came home on an error. But except for a close seventh-inning single by Johnson, Kinle kept Phoenix off the bases for the rest of the game. Meanwhile, the Apollos broke things open in the bottom of the fifth with three runs off five singles off Gears reliever Yoshimune Tsujii, and added an insurance run in the sixth when Dandrea reached on an error and came home on a single by William Hinkle and another Gears error.

Dunn sounded pleased with the opening-game victory.

"(Kinle had a) little trouble early. Had to steal. A wild throw, go from first to third. He was just dead tired. Wound up giving up four runs. But that Kyeong Min Kim accounted for Four runs. We steal bases and let the good times roll. That's what we do. We stole 12 bases and got thrown out twice. It's not altitude baseball, but that's Houston Apollo baseball."

And while the Gear's loss looked a lot like what manager Bill Moore had to endure in Santa Fe last season, he didn't sound too concerned.

"I was pleased with the way we played. I met these guys at 11 o'clock this morning, and we competed. Sometimes it just doesn't work out," he said. "We did some really good things today. We had a little 45-minute workout and a couple of things we did in the workout worked for us and we did well with them. We live and learn a little bit more."

Kim did lead the Gears offensively, going 2-for-3 with 3 RBI. Besides his prowess on the mound, Kinle was 2-for-3 for the Apollos with one run scored, while Hinkle was 2-for-2 and Andrew Azzopardi 2-for-4 with one run scored.

Each team takes on a new opponent Thursday, with the Garden of Gears facing the Vaqueros at 1 p.m. at Coastal Ballpark, with Galveston while the Houston Apollos are back at Cristy Field at 7 p.m. vs. the Sea Lions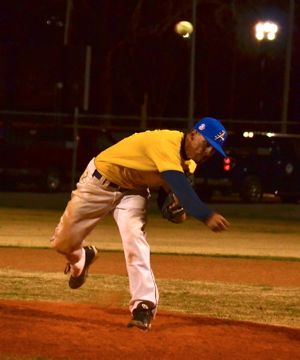 ---
Brett Kinle went a full seven innings in the Apollos victory.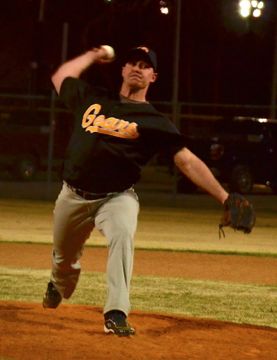 ---
Nikolai Alfimov started for Garden of Gears.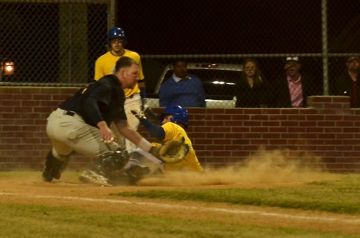 ---
Gears catcher Zach Kreeger waits for the ball as Brett Kinle slides in safe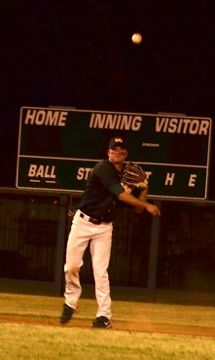 ---
Shortstop Sean Rolky throws to first from the edge of the grass.
---
For more information visit Pecos League of Professional Baseball Clubs LLC.
http://www.PecosLeague.com
575-680-2212