Pecos Spring League looking to jump start the season in March 2014
---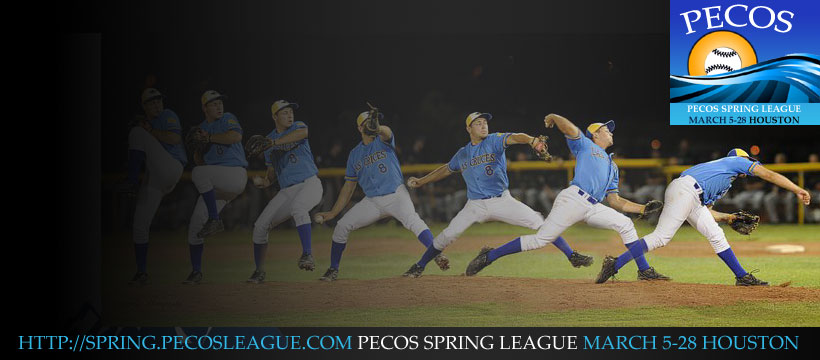 8/6/2013- HOUSTON, Texas — While many little boys dream of growing up to play baseball, finding a way into the professional ranks — even independent leagues — isn't easy. And while those leagues are always looking for skilled players to fill their ranks, finding just the right players isn't easy.

To that end, Pecos League commissioner Andrew Dunn instituted the Pecos Spring League in 2012, a sort of pre-spring training to get players signed for the upcoming season.

"It's a developmental league for leagues to get players," Dunn said. "We need more players with 8 teams, and the Pecos Spring League is a great way to evaluate guys over a three-week period."

The Pecos League will get 60 players to compete on four teams, managed by Pecos League managers.

The Spring League players will compete March 5-28th with a draft at the end to assign players to teams.

"In a 21 day period, these people are looking at playing 10-12 games and getting a contract in the Pecos League or the Frontier League or anyone else. We send players where they need to be," Dunn said. "We've had situations where we send guys directly to other leagues if we feel it's a better fit with their experience. Players are looking at getting into independent and affiliated ball, and that's what this is for."

They'll play at fields in south Houston: Christy Park, which was rebuilt in 2012; and the Coastal Baseball Complex, which features two artificial infields that prevent rainouts.

In its first year 2012, the Pecos Spring League sent Larry Rodriguez to the El Paso Diablos of the American Association; Jacob Casse to the Southern Illinois Miners, where he was the MVP of Frontier League playoffs; Jerimiah Steinart to the Fuego; and several others to Pecos League teams.

In the 2013 season, the Pecos Spring League had Edison Alvarez, Austin Carden, Frank Florio, Andrew Azzapardi, Matt Hunt, Scott Elizky, Richard Suniga, Bryce Miller, Josh Cruse, Brennan May, DJ Johnson, Joe Hicks, Kyle Zimmerman, Zach Kreegar, Cameron Powers and Larry Rodriguez all get starting jobs after the Pecos Spring League.

Dunn expects the number to increase this year, and encourages "guys who were 2013 graduates or who had injuries or for whatever reason are free agents looking to get in" to sign up for the PSL.

The $2,000 cost includes housing, coaches fees, uniforms and helmets, and is sponsored by Rawlings, Old Hickory, Max Bat and the Sun Suite Inn.

And for fans who can't wait for baseball season to begin, the league is available to them as well.

"We invite fans to follow it and we'll be posting stats and it's just part of our system," Dunn said.

For more information on the Pecos Spring League, go to http://spring.pecosleague.com/.