The White Sands Pupfish will return in 2018 for their eighth season in Alamogordo.
---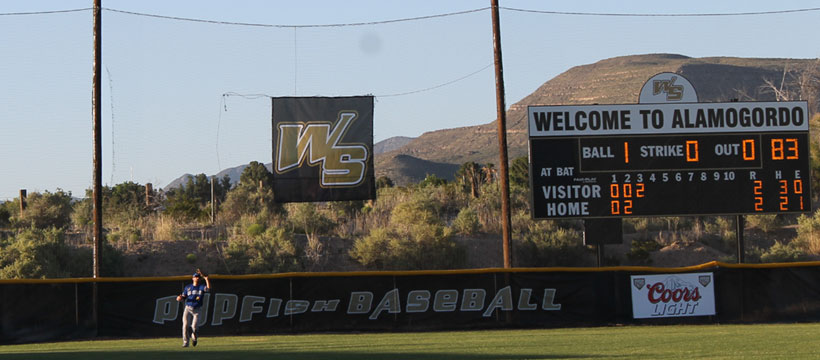 8/13/2017- Peter Dindinger, Alamogordo Daily News
Published 5:40 p.m. MT July 28, 2017
---
Pecos League commissioner Andrew Dunn was in Alamogordo on Thursday, and he was able to confirm the news in a phone interview with the Daily News. "Well, 2018 will be our eighth season in Alamogordo with the Pupfish," Dunn said. "That's what we're doing and we're glad that going into a more established league we know we're going to be back in White Sands, Roswell, Santa Fe, Trinidad, Garden City and Alpine. "The entire Mountain Division is really stable and there's no more expansion and going to all these places. That's gotten tiresome for me, specifically. I just want to stabilize and just play. I'm tired of expansion. I think what we got is great and I think the league's good." This season, by any means, wasn't quite the picture-perfect year for the Pupfish. They're about to tally the worst record in club history since 2013.

Errors and pitching were two of the main issues. As a team, White Sands is hitting .288 with 607 hits, 50 home runs and 312 RBI. The team average is the lowest since hitting .291 in 2014, while the hits total is the second-lowest posted since the 605 hits tallied by the 2014 club. As for ERA, the Pupfish are at 10.04, which is a club-worst. Last year's team had a 7.36 ERA. The best ERA was posted in 2015 — 5.22. Believe it or not, their 114 errors committed this season are the second-fewest committed since the 2013 squad had 105. The 2012 team posted the most errors — 140.

Special events manager for the City of Alamogordo, Jan Wafful, says the Pupfish are here to stay. "There's no question ever about whether they're coming back or not," Wafful said. "The Pupfish have been here for seven years. They are here to stay. They are a part of our community and they've brought us some of the best baseball players that have gone on into the minor and major leagues. "It's a given. They'll be here. They are a part of our community. We appreciate them and we appreciate having semi-pro baseball in Alamogordo for our citizens to go and see. We have a loyal following of baseball fans, who come out every night that they play and they enjoy it a lot." One positive for next season is the Pupfish will get more home games. This year they had 22 games at home — the fewest in club history. Of their total 67 games played in 2017, including the three spring training games, White Sands met Alpine 21 times and Roswell 16 times. According to Dunn, the Pupfish will get more of a variety next season. The Tucson Saguaros will supposedly make their way over to Alamogordo for interleague play. The Hollywood Stars, a travel team in the Pacific Division, will also get a chance to play in Alamogordo.


---
For more information visit Pecos League of Professional Baseball Clubs LLC. http://www.PecosLeague.com 575-680-2212