Roswell Invaders Gear For Sale at International UFO Museum
---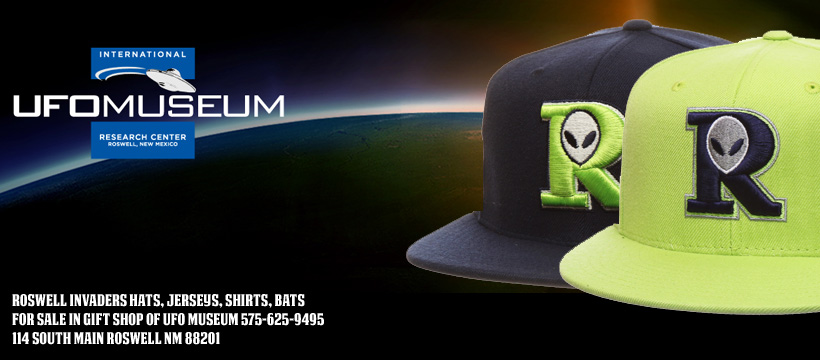 2/19/2017- The Roswell Invaders Gear remains as one of the most popular items with the International UFO Museum Gift Shop. Here you can buy Hats, Jerseys, T-Shirts, Bats, Balls, Pants and everything Invader related.

In July 1947, something happened northwest of Roswell, New Mexico, during a severe thunderstorm. Was it a flying saucer? Was it a weather balloon? What happened?

The answer was nothing for many years until leading UFO researcher Stanton Friedman came across the story in the early 1980s and began the search for information and witnesses. That research brought him to Roswell looking for the public information officer at Roswell Army Air Field in 1947.

That officer was Lt. Walter Haut. He still lived in Roswell and remembered the press release and the orders from his commanding officer.

Friedmanís investigation also led to many others, military and civilian, who had information to add to the Roswell Incident story. Stepping into the picture very strongly in the late 1980s were Don Schmitt, Kevin Randle and Tom Carey. Schmitt and Carey dedicate their research to Roswell.

The debris recovered by rancher WW Mack Brazel was gathered up by the military from the Roswell Army Air Field under the direction of Major Jesse Marcel, the base intelligence officer.

On July 8, 1947, public information officer Lt. Walter Haut issued a press release under orders from base commander Col. William Blanchard. The release said basically we have in our possession a flying saucer.

The next day another press release was issued, but this time from Gen. Roger Ramey, stating it was a weather balloon. That was the start of the best know and documented UFO coverup.

Once it became public, the event known as The Roswell Incident, the crash of an alleged flying saucer, the recovery of debris and bodies, and the ensuing coverup by the military were of such magnitude and so shrouded in mystery that 60 years later there are still more questions than answers. Books have been written and TV documentaries have been filmed. Witnesses have come forward. Skeptics have issued rebuttals to the Incident, and the debate continues.

In early 1990, the idea of a home for information about the Roswell Incident and other UFO phenomena was fostered by Haut. He got together with another Roswell participant Glenn Dennis and the two sought a home for the UFO Museum.

The Roswell UFO Museum is a 501c3 non-profit educational organization with the mission of educating the general public on all aspects of the UFO phenomena. The museum maintains its position as the serious side of the UFO phenomena.
---
For more information visit Pecos League of Professional Baseball Clubs LLC. http://www.PecosLeague.com 575-680-2212