2017 Pecos League Mountain All-Star Game Comes to Garden City
---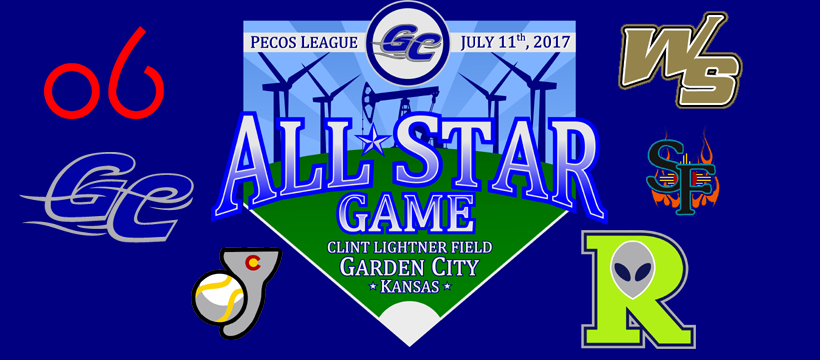 2/3/2017- The Pecos League of Professional Baseball, as well as the community of Garden City, are pleased to announce that the 2017 Pecos Mountain All-Star Game will be held in Garden City on July 11th, at Clint Lightner Field. The format for this year's All-Star Game will be 'New Mexico vs. The League'. The New Mexico teams include The Santa Fe Fuego, The White Sands Pupfish and The Roswell Invaders. Their opponents will include The Trinidad Triggers, The Alpine Cowboys and the host, Garden City Wind. Game time is set for 7:00pm and will be preceded by a home run derby, tentatively scheduled for 3:00pm. Plans are also under way for special events to be held July 10th with an announcement to follow.

The Pecos League of Professional Baseball is an independent professional baseball league which operates in cities in desert mountain regions throughout New Mexico, Southern Arizona, Kansas, West Texas, Southern Colorado and California. Pecos League teams play in cities that do not have Major or Minor League Baseball teams and is not affiliated with either. The league's high power offenses are fueled by higher altitudes and smaller ballparks. The average elevation in the Pecos League is 4870 feet. Our players come from all over the world and are a combination of rising stars, shooting stars and athletes with stars in their eyes. Our communities take tremendous pride in their teams. The Pecos League has promoted 312 players too higher independent and affiliated teams from 2010-2016. Players are signed from Pecos Spring League, Hudson River League, Pecos League Tryout Camps and Major League Baseball Scout referrals. The 2017 Pecos League regular season begins May 25th.

For more information about The Pecos League, please contact Andrew Dunn at Andrew.dunn@pecosleague.com 575-680-2212

For more information about The Garden City Wind, please contact Marcus Sabata at marcus.sabata@pecosleague.com or 620-640-3848

For more information about the 2017 Pecos League All-Star Game please contact Roxanne Morgan at rmorgan@finneycountycvb.com or 620-276-0607 as well as Lona Duvall at lona@ficoedc.com or 620-271-0388.
---
For more information visit Pecos League of Professional Baseball Clubs LLC. http://www.PecosLeague.com 575-680-2212