Crazy Chris will be remain in High Desert as Voice of Yardbirds
---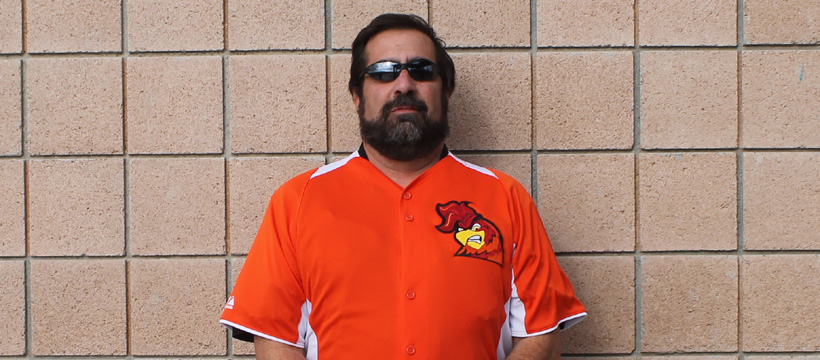 1/11/2017- The High Desert Yardbirds is pleased to announce that "Crazy" Chris Ackerman, the Voice of the High Desert Mavericks has joined our organization as announcer for our inaugural season.

As well as his history announcing for the Mavericks, Chris is also the host and on-air talent of "Friday Night Lights" on CBS Sports Radio KRAK Sports 910am in the Victor Valley, as well as the emcee for the last 6 years at the Town of Apple Valley 4th of July Freedom Festival.

Town of Apple Valley Event Coordinator Julie Gilmer, says, "Chris has become the voice of Apple Valley's Freedom Festival! He fills the air with energy, excitement and ties our event happenings together. I can count on him to professionally handle any situation that is thrown his way without skipping a beat. Crowds always respond excitedly to Crazy Chris!"

Added to that Chris has been announcing Speedway and Flat Track Motorcycle Racing for 9 years and currently is the full time track announcer for Perris Raceway, as well as all motorcycle races at Ventura Raceway and Santa Maria Raceway throughout the year, including the AMA National Speedway Series.

Team USA Speedway World Cup Co-Manager Steve Evans says, "Chris Ackerman is in my opinion the best announcer in American Speedway. Speedway is an on the edge of your seat, thrill sport and no one else has the ability to get the crowd into a similar mind set. He is perfect and the fans both local and traveling love 'Crazy Chris."

A graduate of the Dale Carnegie course in public speaking (where he received the "Highest Award of Achievement" by his class-mates), Chris Ackerman is the owner of Signify Designs, a graphic design firm located in Apple Valley, California, a member of the Rotary Club of Victorville and Vice-Chairman of the Apple Valley Chamber of Commerce.