Explore Sam Lynn Ballpark Bakersfield, Ca
---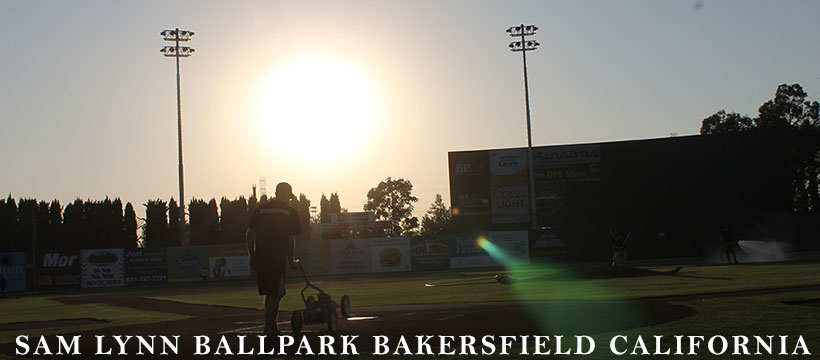 12/1/2016- The Train Robbers play in historic Sam Lynn Ballpark. Sam Lynn Ballpark is the only active Professional Baseball Park that faces West. This causes huge problems as games cannot begin until the sun sets. Despite a 120 foot sun wall that was built nothing is powerful enough to block sun directly behind the centerfield fence.

Due to the setting sun creating a potential hazard for batters, night games were scheduled for several decades with an 8:00 PM start. Years later, night games were scheduled for earlier starting times then delayed in progress until the sun had set and it was safe for the batters. The last in-game sun delay took place on July 3, 1996 and lasted three minutes. Since 1997, the game's first pitch during the summer months takes place after the sun sets and is based on a timetable that has been updated annually by the official scorer. During this part of the season, the time of the game's first pitch ranges from 7:15 PM to 7:45 PM. A large steel and sheet metal screen (125 by 50 feet) was constructed in left-center field, but it only offers a minimal amount of help since the measurements for the sun screen were taken during the off season prior to 1993 when the setting sun was not a factor. The question of the ballpark's strange construction was finally solved by Kevin Eubanks, then-editor of Bakersfield Life Magazine. Eubanks, a former public address announcer for the Bakersfield Blaze, discovered documentation that stated that the ballpark was built inside the one-mile oval horse racing track at what was the original Kern County Fairgrounds, on Chester Avenue. According to a December 4, 1940 article appearing in the town's newspaper, The Bakersfield Californian, the story begins: "Preliminary work of grading and planting grass seed was under way today by the county work relief department within the mile track at the fairgrounds in preparation for the 1941 baseball season, when Bakersfield will be represented in a Class C professional league. Present plans call for moving lights over from the softball diamond, constructing dressing rooms, and depending largely the present grandstand for seating facilities."[citation needed] In that era, night games across America were usually scheduled for 8 or 8:15 PM starts thus it really didn't matter, except for tradition, which way the ballparks faced, especially in the lower minors when ballparks were built pretty rapidly with WPA funding. It wasn't until the 1970s that starting times across America began moving earlier, first 7:30 then later around 7:15 PM.

---
For more information visit Pecos League of Professional Baseball Clubs LLC.
http://www.PecosLeague.com
575-680-2212