Serritella a de grands SAISON EN FRANCE
---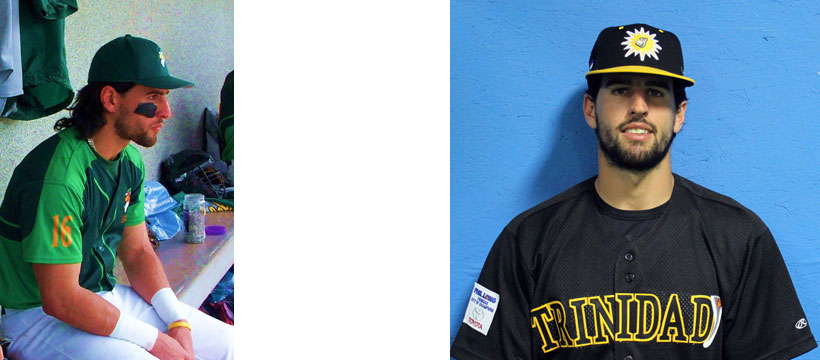 11/11/2014- SERRITELLA HAS BIG SEASON IN FRANCE

Former Trinidad Trigger, Richie Serritella, who was traded to the Les Rochelle Boucaniers just before the 2014 season, had a fantastic season with Les Boucaniers, winning the League batting title. Playing for the best hitting team in the League, Serritella hit .584, which was 84 points higher than any other hitter in the League. He also led the League in slugging percentage (1.000), on-base percentage (,640), runs scored (39), hits (45), and RBIs (42). On the base path, he stole 26 bases in 28 attempts. Not surprisingly, he was awarded the "Hitter of the Year" award.

In addition to being a position player, Serritella was a relief pitcher, and had the second best ERA on the Les Boucaniers (1.76). In 15.1 innings pitched, he recorded 22 strikeouts and six walks.

Pascal Regnier, the General Manager of Les Boucaniers, had high praise for Serritella. "Richie has been a great player ,,. A leader, strong and solid at bat, and a very good catcher and utility player. ... He is a good man, a good friend, and also a good coach, who wants to improve the baseball level for his team."

Les Boucaniers play in the French Baseball Federation, which has 300 clubs in various divisions throughout France. They play in the second highest division in Federation and are planning to move to the highest division within the next three years. They made the playoffs this year, winning in the first round and losing in the Championship series.


---
Ancien Trinité Trigger, Richie Serritella, qui a été échangé à la Rochelle Les Boucaniers juste avant la saison 2014, a connu une saison fantastique avec Les Boucaniers, remportant le championnat des frappeurs de la Ligue. Jouer de la meilleure équipe de frappe dans la Ligue, Serritella frappé 0,584, qui était de 84 points de plus que tout autre frappeur de la Ligue. Il a également mené la ligue au pourcentage de coups de (1.000), le pourcentage de base (640), les points marqués (39), frappe (45), et les points produits (42). Sur le chemin de base, il a volé 26 bases en 28 tentatives. Sans surprise, il a reçu le «Hitter de l'année».
En plus d'être un joueur de position, Serritella était un lanceur de relève, et a eu le deuxième meilleur ERA sur la Boucaniers (1,76). Dans 15,1 manches lancées, il a enregistré 22 retraits au bâton et six promenades.
Pascal Regnier, le directeur général des Boucaniers, a fait l'éloge Serritella. "Richie a été un grand joueur,,. Un leader, forte et solide à la batte, et un très bon receveur et joueur utilitaire. ... Il est un homme bon, un bon ami, et aussi un bon entraîneur, qui veut améliorer le niveau de base-ball pour son équipe. "
Les Boucaniers jouer dans la Fédération Française de Baseball, qui compte 300 clubs dans les différentes divisions dans toute la France. Ils jouent dans la deuxième plus haute division de la Fédération et ont l'intention de passer à la première division au cours des trois prochaines années. Ils ont fait les séries éliminatoires cette année, gagnant de la première ronde et de perdre dans la série Championship.

---
For more information visit Pecos League of Professional Baseball Clubs LLC. http://www.PecosLeague.com 575-680-2212