Takanori Sasaki found in El Paso
---
7/21/2011- Update 7/21/2011 4:05 PM MST
Taka was found on side of road by Mrs McClain who is a host family for the Roswell Invaders, we are in process of getting Taka back to Japan. Taka is extremely confused and homesick. Taka is in good health and doing well. He did not feel like boarding the plane due to fever.
---
Release Update 7/21/2011 10:05 AM MST Takanori Sasaki has been reported as a missing person by the El Paso Police Department. Detective Aguirre from the El Paso Police Department has opened a case to locate Taka.
---
Below are the details. On Thursday July 14, 2011 The Pecos League of Professional Baseball Clubs received a call that Takanori Sasaki had a mental breakdown in his host families house. Karen Bohler his host family and fellow Japanese teammate Yoshinori Machida settled him down. On Friday July 15, 2011 Taka headed to El Paso to catch a plane to go back to Japan. Taka never got on the plane and on Tuesday July 21, 2011 the Pecos League office received a call from the Consulate Japanese. Ghisito from the Consulate has taken charge of trying to locate him. Diego from the rescue mission of El Paso last saw Taka Tuesday at Noon. Diego says "He does not know his current whereabouts. The case in the hands of the detective and Taka is sick. He is not at the Rescue Mission. The last I knew is Taka was going to Las Palmas Hospital. I dropped him off there and he did not want to check in. He is a free man I can't tell him what to do. He got dropped off at the hospital he said thank you and he walked in." Diego drove him there, Taka got out of the car and has not been seen since. He has no ID card and the search process has begun. Taka spent the entire 2010 season in Alpine with the Big Bend Cowboys and part of this season with the Roswell Invaders.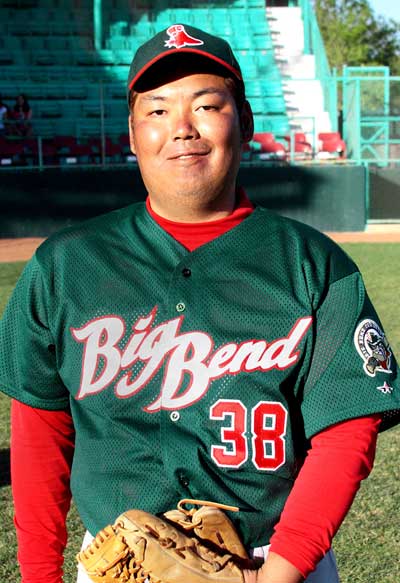 ---
---
For more information visit Pecos League of Professional Baseball Clubs LLC. http://www.PecosLeague.com 575-680-2212